Pflege von The Original Makeup Eraser
The Original Makeup Eraser ist
Marke und Produkt zugleich
. Das innovative Erzeugnis…
Mehr erfahren!
The Original Makeup Eraser Pflege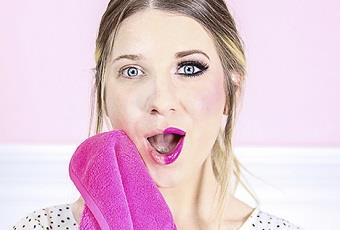 The Original Makeup Eraser ist Marke und Produkt zugleich. Das innovative Erzeugnis ist Gesichtspflege und -reinigung in einem. Es entfernt sowohl Schmutz und Talg als auch Make-up und Rückstände von Pflegeprodukten. Zugleich massiert es die Haut, regt dadurch die Durchblutung an und lässt sie frischer und gesünder wirken.
Die genannten Effekte
erzielt The Original Makeup Eraser allein durch sein Material und seine Struktur. Es besteht aus Mikrofaser-Gewebe mit zwei unterschiedlich gearbeiteten Seiten. In Verbindung mit klarem Wasser entfaltet es eine einzigartige Reinigungs- und Pflegewirkung - ganz ohne zusätzliche Produkte.
Das hebt
Ihr tägliches Beauty-Programm auf ein ganz neues Level - denn der Makeup Eraser ist nicht nur effektiv, sondern auch zeitgemäß. Der Verzicht auf jegliche Zusätze schont die Umwelt und den Geldbeutel. Darüber hinaus ist das neuartige Produkt zur Gesichtspflege und -reinigung besonders nachhaltig: The Original Makeup Eraser besitzt eine Lebensdauer von bis zu fünf Jahren und ist damit eine ressourcenschonende Alternative zu herkömmlichen Wattepads, Feucht- und Abschminktüchern.
Nicht zuletzt
sorgt The Original Makeup Eraser für Stimmung. Er ist in zahlreichen Farben und Designs erhältlich, sodass jede Frau ihren persönlichen Favoriten findet. Das macht die tägliche Gesichtspflege und -reinigung zum puren Vergnügen - sowohl im wörtlichen wie im übertragenen Sinne.