Foundations Make-up von SENSAI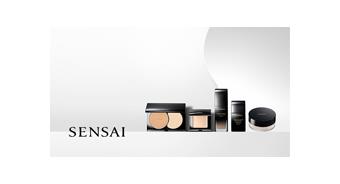 Mit der Make-up Linie SENSAI Foundations präsentiert SENSAI eine Pflege-Foundation, bei der pures Wasser und edelste Seidenextrakte der Haut intensiv Feuchtigkeit spenden und ein strahlendes und makelloses Finish hinterlassen, das mit der Erlesenheit und dem Glanz von Seide erstrahlt.
Wussten Sie schon?
SENSAI Foundations Make-up – höchste Qualität dank eigener Forschungs- und Entwicklungsarbeit
SENSAI gehört zu den weltweit führenden Marken, wenn es um Kosmetik, Make-up und Pflege geht. Jeder Artikel betört die Sinne auf eine ganz eigene, unnachahmliche Art. Dabei legt SENSAI mehr Wert auf hochwertige Stoffe, als herkömmliche Unternehmen. Um diese Qualität gewährleisten zu können, betreibt die Firma eine eigene Entwicklungs- und Forschungsabteilung. Darüber hinaus verfügt SENSAI über diverse Patente, die neue Maßstäbe in der Branche setzen und ein Beleg für die ausgezeichnete Arbeit sind, die bei SENSAI geleistet wird. In den 1930er Jahren fand man bei SENSAI heraus, dass die Struktur der Haut eine enorme Ähnlichkeit zu der der Seide aufweist. Diese Entdeckung stellt die Grundlage für die exklusive Seidenkosmetik der Marke dar.
SENSAI Foundations Make-up – Anmut, Eleganz und Exklusivität
Das Wort SENSAI stammt aus dem Japanischen und bedeutet so viel wie Anmut, Eleganz und Exklusivität – grundlegende Merkmale des japanischen Schönheitsideals und Ideale, die die Philosophie der Marke prägen.
Die Produkt-Linien von SENSAI werden mit Erkenntnissen der modernen Hautforschung, als auch unter dem Einsatz von Innovativ-Technik kreiert. SENSAI verwendet ausschließlich natürliche Wirkstoffe. Die außergewöhnlichen Texturen verschaffen ein Körpergefühl, das luxuriöser Seide gleicht – sie entfesseln das gesamte Schönheitspotenzial der Frau. Nach der Anwendung der Produkte fühlt sich die Haut frischer und geschmeidiger an denn je. Bei regelmäßiger Anwendung wird die Haut fester und glatter.
Es sind aber nicht nur die Foundations Make-up-Produkte, die überzeugen: Von SENSAI gibt es auch andere Make-up-Produkte, sowie Sonnenpflege, Düfte und vieles mehr.
Der The Lipstick – Lippenstift verbessert z.B. die Mikrozirkulation und versorgt trockene Lippen mit intensiver Feuchtigkeit. Dank der in Seide gehüllten Goldpartikel erhalten die Lippen einen strahlend-edlen Glanz.
Die Cellular Protective Cream for Face – Sonnencreme schützt die Haut wiederum vor gefährlichen UV-A und UV-B-Strahlen. Dabei hinterlässt sie keine weißen Rückstände. Die Sonnencreme hat eine äußerst cremige Konsistenz und ist wasserresistent. Es gibt sie mit Sonnenschutzfaktor 15, 30 und 50.
Das The Silk – Eau de Parfum ist ein eleganter Duft aus frisch-fruchtigen Noten. So versprühen rosa Pfeffer, Bergamotte, Veilchen und Birne ihr volles Aroma und beleben die Sinne. Es folgt ein Bouquet aus weißen Blumen. Sinnlicher Amber und die cremig-reichhaltigen Aromen der Tonkabohne runden das einzigartige Dufterlebnis ab.
Unsere SENSAI Foundations Make-up-Empfehlungen:
SMOOTHING WATER MAKE-UP BASE: Diese innovative Make-up Base spendet Feuchtigkeit und umhüllt die Haut mit einem glatten, sanften Schleier. Die Haut wirkt straffer und jugendlicher. Das SMOOTHING WATER MAKE-UP BASE ist die ideale Vorbereitung auf das nachfolgende Make-up. Um perfekte Ergebnisse zu erzielen, wird das MAKE-UP BASE nach der Doppel-Befeuchtung sowie vor dem Make-up aufgetragen.
LIFT UP BASE: Diese glättende Make-up Base gleicht Unebenheiten der Haut aus und verschafft ein perfekt straffes Finish. Es wird nach der Doppel-Befeuchtung sowie vor dem Make-up aufgetragen.
TOTAL FINISH NATURAL MATTE: Das TOTAL FINISH NATURAL MATTE ist ein spezielles Kompakt- Make-up, welches sich für Mischhaut und für ölige Haut eignet. Das Produkt lässt die Haut natürlich frisch wirken und verhilft zu einem seidig-matten Finish, das lange hält. Das TOTAL FINISH NATURAL MATTE wird nach der Doppel-Befeuchtung über eine Make-up Base aufgetragen. Es ist in 4 Farbnuancen erhältlich. Diese können regional unterschiedlich sein.
SKIN FOCUS CORRECTOR: Dieser Korrekturstift füllt tiefere Falten, Poren und Linien bereits bei der Anwendung auf und versorgt die Haut mit intensiver Feuchtigkeit. Er wird einfach in den betroffenen Gesichtspartien eingearbeitet.
CONCEALER (BRUSH TYPE): Diese einfach anzuwendende Abdeckcreme eignet sich für das Abdecken von kleinen Schönheitsfehlern und Schatten. Die Wirkstoffe des Stifts mit Pinsel pflegen die Haut und decken betroffene Hautpartien natürlich ab. Der Concealer wird sanft auf die betroffenen Zonen aufgetragen. Er ist in 3 Farbnuancen erhältlich.
BRONZING GEL: Dieses getönte Gel hat einen Feuchtigkeitsgehalt von 70 %. Es verfügt über eine einzigartige Textur, die erfrischt und die Haut mit intensiver Feuchtigkeit versorgt. Das BRONZING GEL schützt die Haut und verleiht ihr einen intensiven und zugleich dezenten Bronzeschimmer, der für ein seidig zartes Finish sorgt.
Es spielt keine Rolle, ob Gesichtsmake-up, Sonnenpflege mit SPF, Puder oder Cream Foundation – die Produkte von KANEBO SENSAI stehen für ein seidiges Hautgefühl und für natürliche Schönheit.